ABOUT US

Hello and thanks for your interest in who's making this website.
I am Kat and I live in Australia - a country with a good warm climate which keeps the moods up, and lots of time for jokes.

I love a good laugh and I am pretty happy to spend a whole day putting jokes up on this site, giggling..

But how can I afford the time?

Good question!

Well, I earn money from this website.

Yes, that's right.

You can put up almost any website and earn money from advertisements and affiliate websites.
There is only one thing - you need a good amount of traffic to your site to earn money. To get the traffic, you need to write a lot of unique pages.

But more than anything, and particularly if you are a beginner and don't know how to make a website, you need one vital tool - SBI...


Well, here is what happened to me...

It was year 2008 and I was working with mining exploration. The job wasn't too bad since I love rocks and geology, but I felt I had no life.

Every morning I woke up to go to work, and every night I came home too tired to do anything but eat and go to sleep, only to go up the following morning and do the same thing all over again. Days off were spent on catching up on house work and there was no time to have fun.

And worse than anything, I had to drag myself out of bed 6am to go to work every morning..

I am not a morning person and often I didn't even "wake up" before lunch time, so sometimes it was a real struggle to get through the working day!

So, I wanted a change and thought I would make a website to sell my photos because I travel a fair bit and I love photography.

Not knowing how to make a website, I went Googling "how to make a website", and found something called SBI.. - a tool that did not only promise to teach me how to make a website from scratch, but also how to build traffic and actually earn money..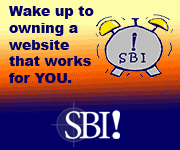 Wow. I liked the idea.
But of course, I was sceptical. I searched in reviews and everywhere I could, but I could not find one single negative statement about the tool. Everyone seemed to be really happy with it.
So I went ahead and bought it.
And started making websites. Every free moment I had, I was writing pages, and I soon started taking time off work.
Nobody believed me. Everyone said, why don't you just stop dreaming and go back to work.. but I would not listen to them. Stubborn as I am, I kept writing more and more pages...
And slowly I started earning money. I started with a few cents a day, but the snowball started rolling.. and rolling.. and rolling....
Today - three years and five websites later, I earn enough money to be totally free.
I still work - of course, I have to reply to readers' submissions, I have to do some maintenance on my sites, and I choose to keep writing more and more web pages to build even more traffic... I don't mind it - I write about my interests so it doesn't feel like work.
And the main thing is that I work for myself. I am my own boss and I sleep in when I want. I work the hours I like and take time off when I want and how long I want.
I own my life - I will never have to work for anybody else again :-)
And guess what.. YOU can do the same!
SBI teaches you how to build a website about any of your hobbies or interests. It doesn't have to be jokes. My other websites are about Australia, rainforests, whales and dolphins, rocks and minerals, well that's my interests. But it can be as simple as family, kids, parties, cooking, gardening, cars, motorbikes, home improvement......., what ever interests you - the list is literally endless.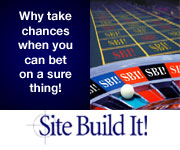 And once you have put your site up, it teaches you how to earn money from Google ads and other similar advertisement programs, as well as affiliate websites.
It is as simple as signing up for advetisement and affiliate programs - you don't even have to talk to anyone. And they send you money right into your bank account.
Once you have it all set up, you will have an income stream coming in even on days when you don't work, because people still visit your website(s).
Like the idea?
Have a look at this quick video tour about how it all works.

Or, you may prefer a slide show..

And, here are other SBI stories.
You do need SBI, particularly if you don't know how to make a website.
Having said all that, there are a few things I want you to be aware of:
* You will have to write a lot of unique pages. WORDS make money - not fancy graphics. It doesn't matter how you design your site - it's the content that matters.
* SBI is a learning curve, it's like a course that you have to learn.
You have to be willing to put in the effort to learn it.
* Just because you use SBI, doesn't mean that things happen by miracle. There are no miracles. It's all hard work, and lots of it.
And last but not least..
* Don't expect any results over night. That's the most common mistake that people make. It's not like you put the site up on the weekend and start earning money on Monday. It is a gradual process. You start off with small earnings and it will grow over the years. It took me three years and more than 1000 written web pages before I started earning an income. That's a lot of work.
But if you are up to it, if it all sounds good, go for it. (It's 100% money-back guarantee or try the free trial).
Have a great day, I'll just have a stretch here ;-)
I know it's a hard job but somebody has to do it!
All the best,
Kat.
P. S. Please note:
The content of all my websites is strictly protected by the Law of Copyright.
Copying and redistributing ANY pages from this site is ILLEGAL and copycats are tracked by Copyscape.
On top of that, copying would not get anyone anywhere. What it creates is so-called mirrored pages, which will not get listed in search engines and the new site would get no traffic, which means no money.
To earn money it is vital that the pages you create are unique.
Please read more about Copyright on this site in Site Policies.